How Castro Arrived in the Valley

How Castro Arrived in the Valley
To continue the now 95-year Selmeczki, and now Roark, family tradition of giving an abbreviated account of local history on important anniversaries, we'll pick up where we left off; telling the story of how Castro Valley became the place it is today.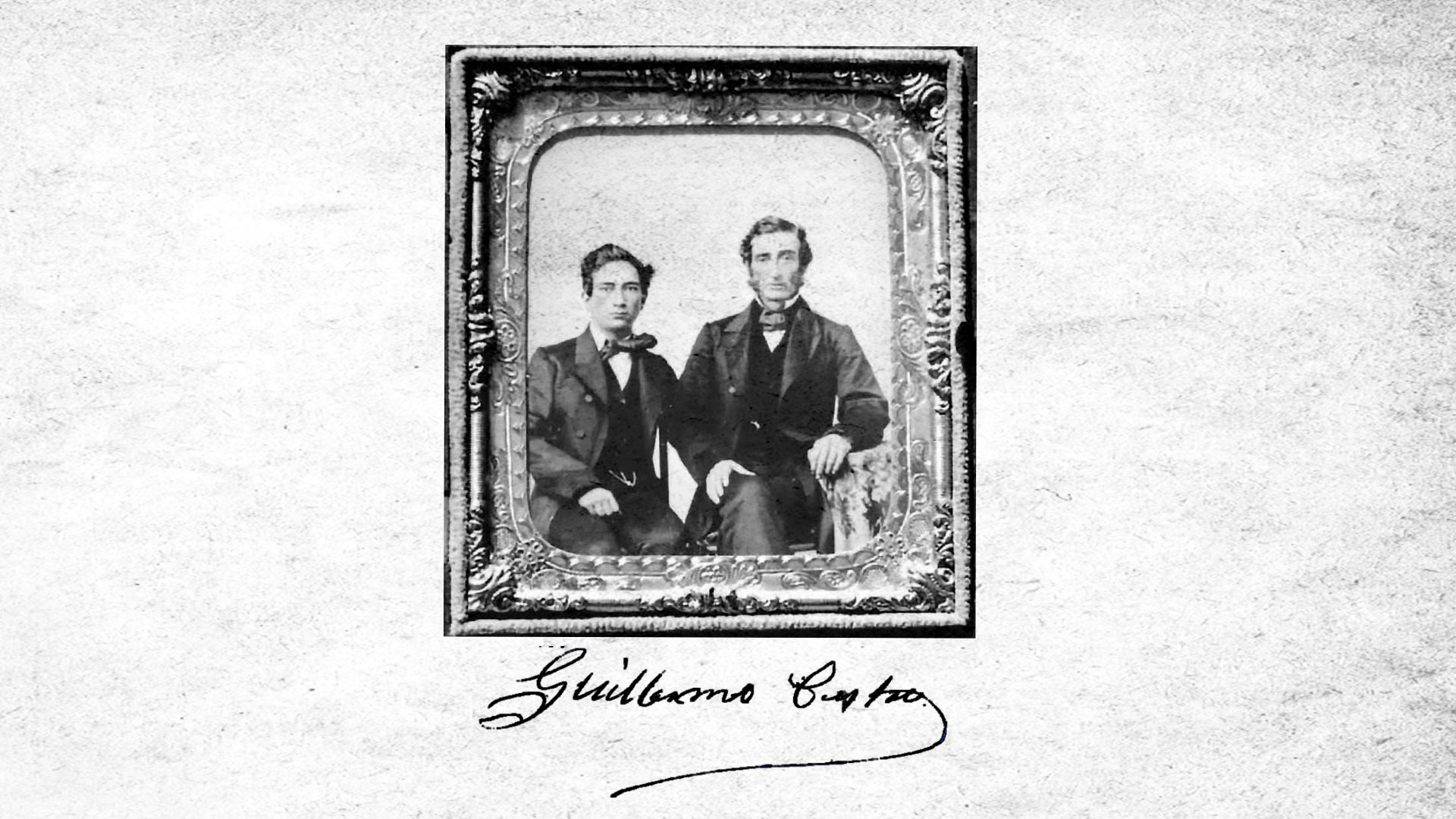 Don Guillermo Castro sits next to his youngest son Luis approximately 1852. This photograph was taken from a daguerrotype and was Acquired by the UC Berkeley Bancroft Library in 2014.
The most common stories about Castro Valley's namesake usually involve a brief period of time as ranchland before Guillermo Castro had to sell his land to pay off gambling debts. This history isn't quite complete and somewhat ignores the
fact that Castro left his valley for Chile as a millionaire in today's valuation.
Most are also unaware that his great, great-grandson was the revolutionary Che Guevara who aided in the Cuban communist revolution in 1958, according to genealogical research shared by graduate researcher Edwin Contreras.
Originally part of Rancho San Lorenzo, Castro Valley's landscape looked much like the undeveloped grassy hills where we can still find hiking trails and cow pastures today when Guillermo Castro first arrived.
The valley was filled with fields of grass and wildflowers. Much like today, the land hosted cows, grazing in the fields and napping under the branches of oak trees while ranchers on horseback surveyed fields for potential build-sites.
The valley was the perfect place for a rancher to keep as a winter range for thousands of cattle, sheep and horses because its amphitheater shape gave protection from Bay winds and fog– the same reason people are still drawn to the area today.
Before staking his claim on 28,000 acres of land in the areas we know today as Hayward, San Lorenzo, Castro Valley, Cull, Crow, and Palomares Canyons in the 1840s, Don Guillermo Castro was a Mexican Army Lieutenant and then a land surveyor in San Jose.
Of Spanish lineage, Castro's grandfather, Joaquin Ysidro Castro, migrated from colonized Spanish territory in Mexico with Juan Bautista de Anza in his famous 1775 expedition to the San Francisco Bay Area. After 19 years of military service, he was given one of a handful of land grants by the Spanish government close to Salinas in one of the more remote settlements. The wealthier Spanish "Californios", defined as 'original Spanish colonists of California or their descendants', began to interact with and trade more freely with migrant Yankee settlers from the east coast who came seeking gold.
Thus, Guillermo Castro and his relatives and neighbors joined the ranks of the Mexican cattle barons. Staffed by an underclass of mestizos and former mission Indians, they reveled in the tail end of the fabled golden pastoral age of the Californio ranchero. Selling hides and tallow to the Yankee trading vessels, then beef to the 49'ers, Castro and his fellow landed Dons spent lavishly on imported finery and bling, conspicuously flaunting their wealth. Celebrations were frequent, elaborate, and extravagant, and included fiestas, fandangos, rodeos, bull and bear fighting and horse racing. The word arcadian is often invoked by writers, derived from the unspoiled Arcadia of ancient Greece. – pg. 20, Rancho to Ranch Homes, Kelly
American author Jacob Harlan described Castro as the "best" Californian he knew, a "spare, wiry man, with brown eyes and hair, and physically active and tough. He was a splendid horseman, and I do not remember any man who was his superior in that respect." (As quoted in Rick Kelly's book Rancho to Ranch Homes, Mapping the Evolution of Castro Valley California.)
The nature of land ownership shifted with the ambiguity left in the transition from Spanish to Mexican rule and many fought through the chaotic process to make sure their land ownership was federally confirmed.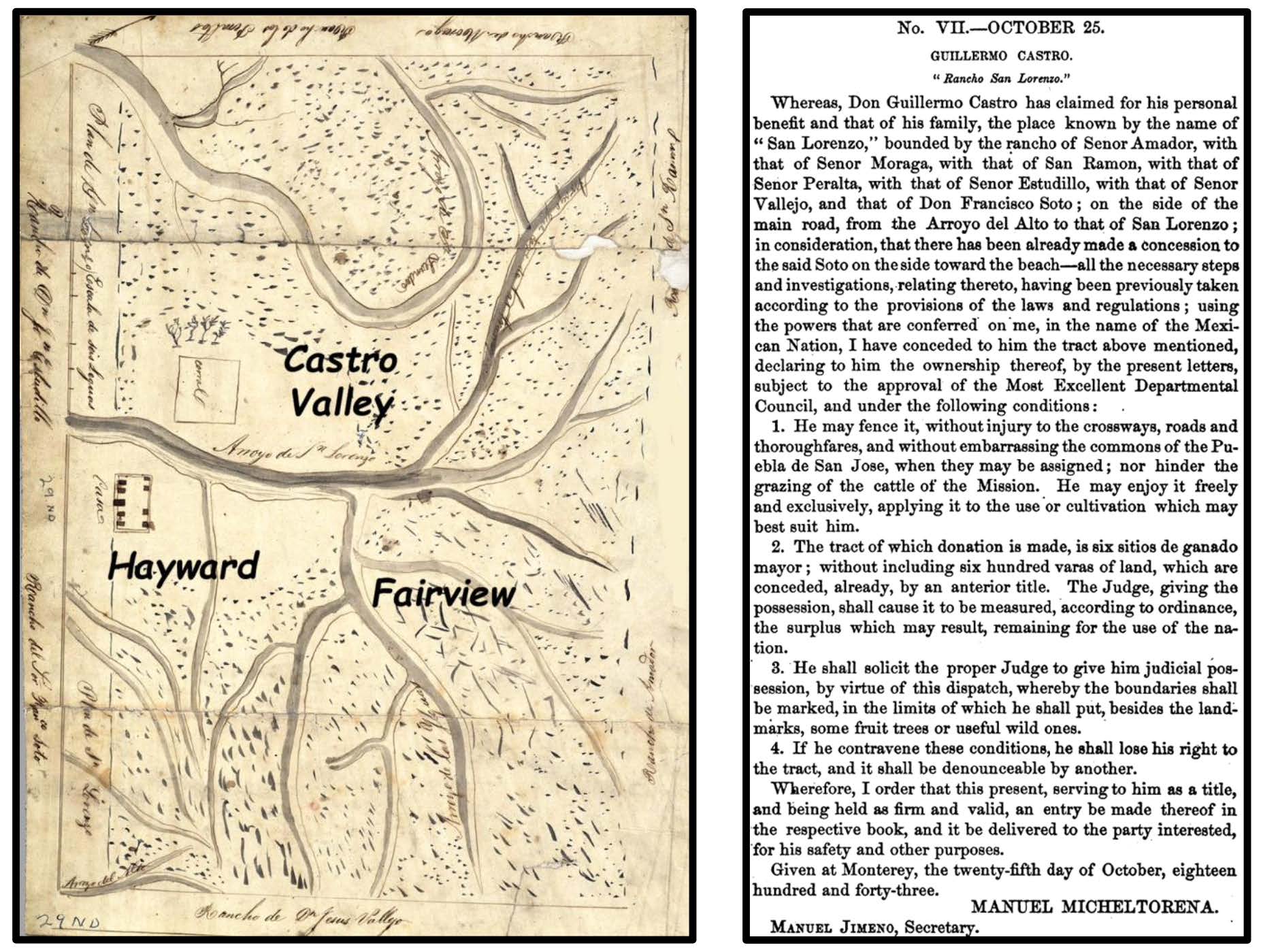 This map accompanied another attempt to stake an official claim for a land grant by Guillermo's father, Carlos Castro on October 10th, 1843. It was quickly approved by then Governor Manuel Micheltorenta before becoming entrenched, once again, in appeals.
Guillermo Castro and his father Carlos worked for 19 years to get an "official" legal title to the land where his rancho was established. Starting in December of 1837, or six weeks after land ownership was redefined from the religious affiliation of the Spanish missions to secularized ranchos, Castro and his father wrote endless appeals to the district courts that were inevitably disputed and re-litigated by his neighbors, fellow military men from prominent families José Joaquin Estudillo and Francisco Soto.
Another territorial issue that began to arise with the influx of gold-seeking Yankee settlers and other migrants, was a rise in squatters on the land. The presence of squatters also contributed to Castro's difficulty to sell parcels of his land and would ultimately contribute to his inability to lease, sell, or use his ranch land.
Rather than a sudden loss in a card game, Castro's debts accumulated over years. He did famously lose $35,000 in 1852, which would amount to over a million dollars in today's money, during a trip to purchase additional cattle for his ranch, Castro's fortune dwindled through legal fees over the property dispute, droughts, a flood, a bank closure, and a number of other factors over the years.
Ironically it was around the time that Guillermo Castro sold his final parcels of land in 1863 and transferred what remained to his son Juan Castro that the area started to officially be called Castro Valley. The quit-claim transfer of the deed said that the parcel was sold for the price of "natural love and $5." He then sailed for South America where he lived with his family until his death in Argentina in 1866.
Check back next week to read the next installment of Castro Valley history, compiled in honor of Pete's Ace Hardware's 95th anniversary.